Managing curriculum and course content is a continuous process. The goal: to clearly state competence to successfully earn a degree or complete a certificate. While terminology varies, objectives make up outcomes which make up competencies. Designing curriculum to accomplish this goal tends to look like this: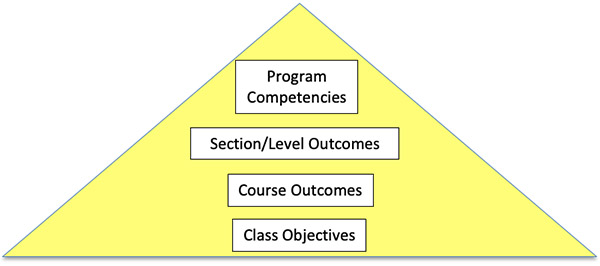 Assessing curriculum effectiveness usually begins with mapping: evaluating syllabi and courses then comparing content to outcomes. Gaps are identified, and the process reverses to confirm all is covered or "mapped". Unfortunately, this usually results in stuffing a curriculum: 20lbs of stuff in a 10lb bag – so much information learners can't possibly retain nor apply it all. Meeting curricular expectations while incorporating active learning is magical…and takes practice, diligence, and care.
Here are some guidelines for the care and feeding of a healthy curriculum:
1. Check Instructional Alignment:

For each course and class, each learning objective should be assessed and linked to an instructional strategy.
Any missing assessment or instructional strategy may be lost – it falls through the gap. Learning is predicated on touchpoints – one concept should overlap with another.
2. Keep the Must, Shift the Important, Hold the Interesting:
Use an Outcomes Bulls Eye, a term that has bubbled up into my head over years of researching and teaching.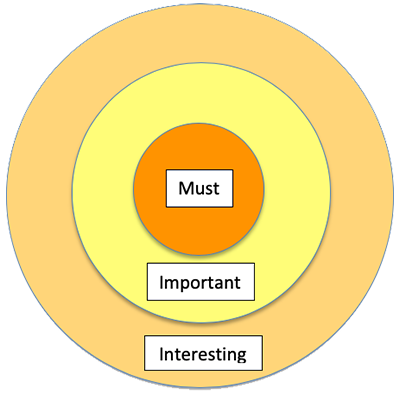 Must: knowledge, concepts, and skills essential for successful completion of the curriculum.

Example = Effective compressions are essential for CPR success

Important: valuable information yet not absolutely necessary – this is the area that is the most difficult to corral and grows the quickest.

Example = Statistics about CPR success in airplanes

Interesting: beyond the scope of general knowledge or basic competence – this is the passion part. Great for electives or outside of the curriculum.

Example = CPR was created by XXX

Conceptually "vacuum" a syllabus to determine what is a "Must": what outcomes must learners master to successfully pass and progress while decreasing the information that is "Important" and removing the information that is "Interesting" …but still not a "Must".
This tool is designed to:

Focus on fewer items but to assure learners clearly learn
Avoid the jack-of-all-trades-master-of-none
Increase retention
Improve application
Support synthesis, critical thinking, and problem-solving
3. Pace and Timing
Confirm learners have mastered basic constructs before moving too quickly into complex concepts. Deeper learning of fewer concepts is retained longer.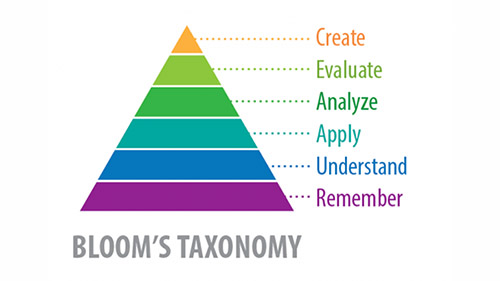 Introduce mastery concepts early, those lower on Bloom's taxonomy. Keep it simple and repeat. Include activities to apply. Then measure to assess learning.
Enforce retention with recall. Incorporate previous concepts into new concepts to strengthen the memory paths learners build along the way.
Design the material such that a concept can be transferred to different environments. Rather than covering multiple possible variants, teach one well then use time and activities to repeat and strengthen that concept.

Example = Use comparing and contrasting activities to teach critical thinking. Repeat the activity as new concepts are introduced.
Learners are trying to learn and apply the first steps of walking while educators have mastered running.
Confirm each Must is being taught and assessed.
Avoid trying to teach everything, which can result in teaching nothing.
Slow down to focus on knowing and applying the basics well.
Practice these guidelines and others to keep the curriculum slim, trim and focused to maximize resources while celebrating the magic of learning.
References and Resources:
Simon B, Taylor JW. What is the value of course-specific learning goals? J College Sci Teach2009; Nov/Dec:53–7.
Karpicke JD, Roediger HL III. Repeated retrieval during learning is the key to long-term retention. Journal of Memory and Language 2007;57:151–162.
Bransford JD, Brown AL, Cocking RR (Eds.) How people learn: Brain, Mind, Experience, and School. 2000.Washington, DC: National Academy Press.
Stanford Center for Teaching and Learning. Teaching resources. 2019. Available at: https://teachingcommons.stanford.edu/resources/teaching-resources. Accessed December 15, 2019.
University of Michigan Center for Research on Teaching and Learning. Teaching resources. 2019. Available at: http://www.crlt.umich.edu/. Accessed December 15, 2019.